LPG Conversions – Commercial Conversions
Propane Fuel Conversions – Engines and Vehicles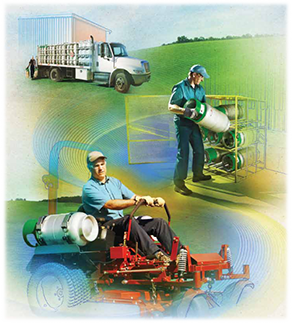 Engines and vehicle fuel conversions are increasingly becoming a topic of interest for both economic and environmental reasons. In Houston, we have pollution standards tailored for one of the largest metropolitan areas in the U.S. Propane is a viable alternative for engine fuel from an economic and environmental standpoint. The discussion of the environmental impact of using propane is no longer limited to on-road fuel use and emissions; it has become a subject of interest in off-road and small engine emissions as well. Green's Blue Flame Gas Company has been converting engines of all sizes to run on propane for many different applications.
Important: Propane conversions for on-road vehicles are subject to EPA certification.
Small Engine Propane Conversions
Green's Blue Flame Gas Company is the Houston area's propane conversion shop for small engine applications. These include generators, off-road vehicles, lawn mowers and other types of engines not used in fleet or on-road service.
Propane Fleet Vehicle Conversions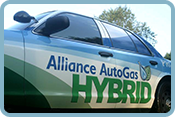 Green's Blue Flame has partnered with Alliance AutoGas, a nationwide group of propane conversion companies. Our Houston based propane fleet vehicle conversion center is backed by the infrastructure of a supportive network of quality engine conversion standards. These standards provide the framework of an operational conversion network across the country and here in Houston, TX.
Save